Weapons
The information in this article is out of date. You can help Starship EVO Wiki by updating it.
A variety of starship weapon systems are available in Starship EVO. They can be Integrated with player ships using blocks and bricks to create turrets or retractable mounting points. The same parts are used in the construction of small, handheld weapons.
All weapon bases have different base stats that affect how they can be used and how they affect the ship around them. They have three different types of stats:
Heat and power
Damage (heat and hull)
Charge time and fire time/bullet velocity
Stats and Stat Types
Heat and Power
Damage
Extras
Heat generated -

The heat generated in h/s while the trigger is pulled

HP damage

the amount of damage in hp dealt to hull armor

Charge Time

The amount of time between each firing of the weapon

that is needed to recharge it

Power draw -

The power drawn in e/s while the trigger is pulled

Heat damage

the amount of heat in flat h added to target on hit

Fire Time (only on Beam weapons)

The max amount of time for which the weapon can be fired

Regen Heat -

The heat generated in h/s while the weapon is recharging

This is added to the Heat generated while firing

Shield damage (not shown)

somehow related to heat damage

might just be heat damage flat

Bullet Velocity (only on "laser" weapons)

The speed at which the fired projectile travels

Regen Power -

The power consumed in e/s while the weapon is recharging

This is also added to the Power draw while firing

Spread (not shown)

The accuracy of the weapon
The Laser is a base weapon system that creates a weapon that fires individual projectiles at a high velocity. It is very versatile and can be equipped with a variety of attachments.
These new lasers can be scaled to a maximum of 4 blocks long, to increase damage. (may change in future)
Comes in two variants - the large (4x4) and small (1x1) block sizes. The large sized base is more heat efficient per damage dealt, but is less compact.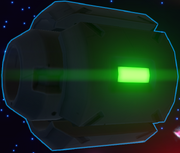 Laser Base Stats
Large Laser
Small Laser
Heat Gen
25 h/s
Heat Gen
25 h/s
Pwr Drw
40 e/s
Pwr Drw
10 e/s
Rgn Heat
100 h/s
Rgn Heat
100 h/s
Rgn Pwr
160 e/s
Rgn Pwr
40 e/s
HP Dmg
70 hp
HP Dmg
17.5 hp
HT Dmg
1000 h
HT Dmg
250 h
Chg Time
1.0 s
Chg Time
1.0 s
Velocity
900 m/s
Velocity
900 m/s
The Beam is the big brother of the Laser, and as it's name suggests, it fires a high-power hit-scan laser that does impressive damage.
It has similar stats to the laser, but due to the fact that when firing its trigger power and heat draw/gen are always applied, it does consume more power and produce more heat on average.
Its biggest selling point is its hitscan properties and range, which are both great for dealing with small, fast ships, and although it does have lower hull DPS than the laser, its massively higher heat damage is more than enough to compensate for it, since it is extremely effective against smaller ships with a low heat capacity
Can be scaled to 9 blocks long, more than double that of the laser
Also comes in large (4x4) and small (1x1) sizes. Just like the laser, the bigger beam is more efficient, but less compact than the smaller.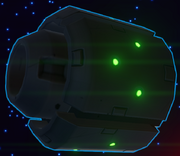 Beam Base Stats
Large Beam
Small Beam
Heat Gen
25 h/s
Heat Gen
25 h/s
Pwr Drw
40 e/s
Pwr Drw
10 e/s
Rgn Heat
100 h/s
Rgn Heat
100 h/s
Rgn Pwr
160 e/s
Rgn Pwr
40 e/s
HP Dmg
70 hp
HP Dmg
17.5 hp
HT Dmg
1000 h
HT Dmg
250 h
Chg Time
1.0 s
Chg Time
1.0 s
Velocity
900 m/s
Velocity
900 m/s